ROBOKIND v0.9.2 NOW AVAILABLE IN MAVEN
Robokind is a platform-independent Java-based robotics control framework, licensed under the Apache License, Version 2.0.
If you are using Robokind 0.9.2, you will need to add the sonatype repository to your pom.xml:
<repository>
<id>sonatype</id>
<name>sonatype</name>
<url>https://oss.sonatype.org/content/groups/public/</url>
</repository>

Our groupId is org.robokind, and the version is 0.9.2
What does Robokind provide?
Robokind provides low-level robotics control in three main areas: Motion, Vision, and Speech.

Motion

Move physical or virtual robots.
Network-enabled movement control.
Motion Blending for modular control, allows several components to simultaneously control a robot.
Control several robots at the same time.

Vision

Camera Capture and image messaging across Java and C++.
Distributed Vision System, designed to work across several processes.
Easy OpenCV Integration with Face Detection example.

Speech

Supports Microsoft SAPI on Windows.
Implementations for other platforms coming soon.

Sensor Integration Module coming soon!
Robokind provides enterprise-level infrastructure to support complex robotics applications and long-term development.

Messaging
Modularity
Architecture for Maintainability and Extensibility
Cross-Platform Compatible
Language Independent Protocols - Implemented in Java with clients in C++, accessible in C#, C, Ruby, and Python via Avro and Qpid directly.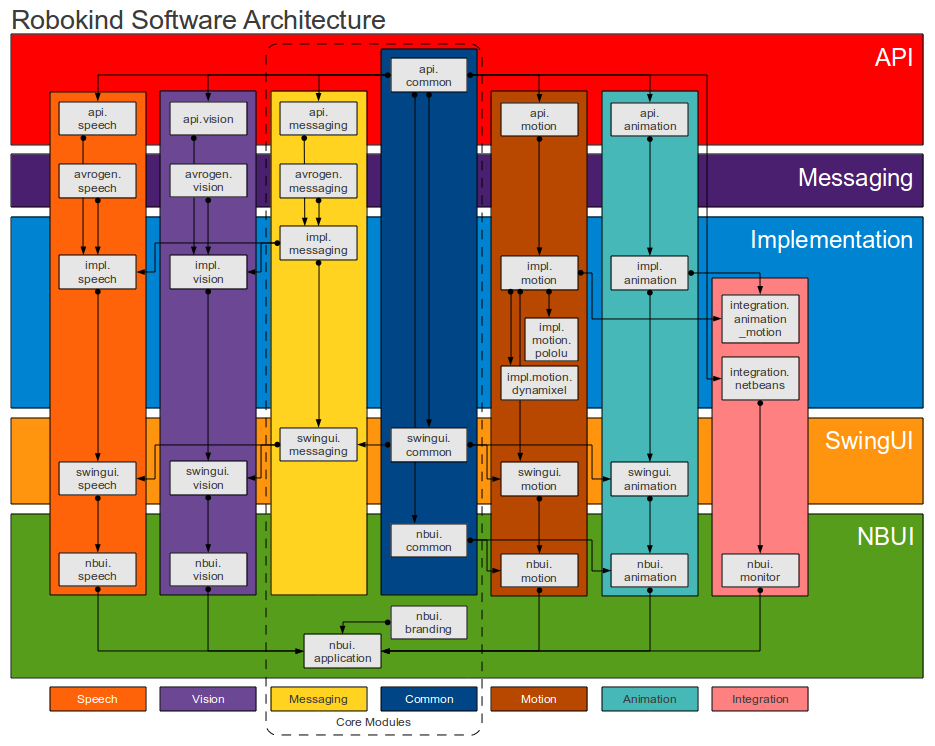 Robokind is built on top of several leading Open-Source projects.
Robokind uses:
Apache Felix OSGi
Apache Avro
Apache Qpid
OpenCV
JFlux
Distributed image processing with Apache Avro and Apache Qpid
- 2011-08-25
Robokind leverages more synergisms than you can shake a cornflower-blue stick at.
What more could you want?
The following features have been spun off into the
RoboWorkshop project
and are no longer part of RoboKind:
Robokind is intended only for low-level robotics control with no support for high-level planning and awareness. The focus of Robokind is kept narrow in an effort to prevent bloat and unkept overgrowth in the project.
What is Robokind NOT:
Robokind does not provide high-level planning or decision making.
Robokind does not provide visual awareness or vision based decision making.
Robokind does not provide language understanding.
These Cognitive Capabilities will be developed at Robokind's sister project,
the CogChar Project
.